The Navy Academy provides (inter)national and NATO courses in the Dutch, French and English languages.

National courses
For the national navy crew members, the Navy Academy offers procedural, tactical and technical education in a large number of domains: navigation, seamanship, deck handling, sailing, engineering, communications, fire fighting and damage control, naval mine warfare, catering, first aid, small arms firing, force protection,… to personnel serving on board of navy vessels of the Belgian Navy and the Royal Netherlands Navy.
NATO courses
The Navy Academy also offers education in the naval mine warfare domain to officers from NATO-countries. Education contains lectures, wargames, staff work, briefings, study trips and theoretical exams and consists of four modules with a total duration of 18 weeks.
The four modules are named as follows:
–       NMWAC-N: Naval Mine Warfare Awareness Course-NATO (1 week)
–       OPP-7QMP-N: Operational Planning Process – 7 Questions Model Process–NATO (1 week)
–       PWO-MCM: Principal Warfare Officer – MCM (9 Weeks)
–       SO-MCM: Staff Officer- MCM (7 weeks)
When successfully passed the students are able to fulfill a job as a MCM staff officer in an (inter)national staff and are a subject matter expert in naval mine warfare.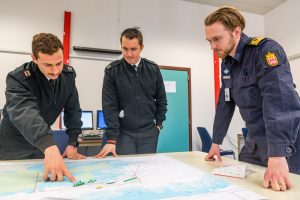 International courses
Finally the Navy Academy provides education to officers from PfP- and non NATO-countries.
The NMWAC-I (naval mine warfare awareness course), a one week course, aims to provide non naval mine warfare officers, serving or designated to serve on board of a surface combatant or in a staff of a naval commander, with information to enable them to understand the challenges in naval mine warfare in relation to maritime operations in or close to a mine threat area.
The Naval Cooperation and Guidance for Shipping (NCAGS) and Allied Worldwide Navigational Information System (AWNIS) Courses are fully supported by the Navy Academy.
Course catalogue
The Navy Academy offers a wide range of naval mine warfare and naval mine warfare related courses and training/facilities for NATO Navy personnel. You will find on the link hereunder the last version of our course catalogue as well as the modalities to register.